Online donations may be made here.
Monetary donations may be mailed to us at:
1301 Brinson Lane, Midland, TX 79703
Items may be brought to one of two locations:
We accept virtually anything that is in good condition.  Items are sold in our thrift store and the money is used to help the poor with their rent, utilities, medical and other expenses.
Directly to our facility at:
Items may only be brought to the facility from Monday through Saturday between the hours of 8am to 1:30pm only. Entrance to the facility for donations is through the gate on the west (left hand) side of the building. Our attended drop off location is around the rear of the building.
Items may not be left outside of the facility after hours at doors or gates. (NO DUMPING by Midland City Code 8620 – Subject to $500 fine)
To our fully staffed donation trucks between the hours of 9am and 1pm on the first and third Saturdays of each month:
Items should be placed completely inside the trucks. Please do not leave items on the ground in the parking lot.
Financial Assistance
How To Get Help
If you are in need of financial assistance – you must first call our Helpline at (432) 520-8900.  Walk-ins to the facility without an appointment will not be accepted.
When you call the Helpline, as soon as the recorded message starts press "1" and listen to the message.  You are then required to leave a message with your following information:
Full Name
Social Security Number
Telephone Number
Type of Help You Need
Reason Why You Need Assistance
We return calls if we can help you each day, so if you do not hear from us the day after you call, please try again and also call 2-1-1 to get a list of other agencies that can help you.
Volunteer
Our Volunteers
Helping Hands of Midland is an all-volunteer organization. There are absolutely no paid salaries for anyone. This is our way of assuring you that every penny that you donate goes directly to the poor of Midland. We have a wonderful group of volunteers but we can always use more! We have something for everyone. We are always in need of sorters, stockers, clerical help, people to to drivers, fork lift operators, cashiers, and people to check electronic appliances. We also need caseworkers. No matter what your area of interest or expertise, we can use your help! If you have an hour or a day each week to spare, please consider volunteering your time in service to the poor. All training is provided. For more information, or to volunteer, please call Mary, 432-528-6265 anytime!
If you need to perform community service hours for school, church or court order supervision, you are welcome to join our regular volunteers for work at the facility. Those volunteering to complete community service commitments need to report at 8am on the day they plan to work. We work at the facility from 8am to 2pm every Monday through Saturday.
Thrift Store
Our Thrift Store
Proceeds from our thrift store go directly to the client service fund, and are used to provide financial assistance and to cover general operating expenses (such as the utility bills, maintenance on the trucks, etc.). Our thrift store accepts donations of virtually anything in good condition, such as clothing, furniture, appliances, household goods and even old automobiles! The store is open to the public on Wednesdays and Saturdays from 10 am until 2 pm.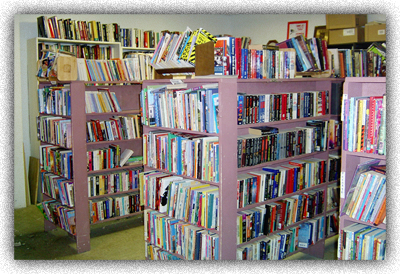 See The Latest
News
Please go to our Facebook page for weekly updates:
We're here to serve the community.
For financial assistance, Click here.
For all other inquiries, please fill out the form